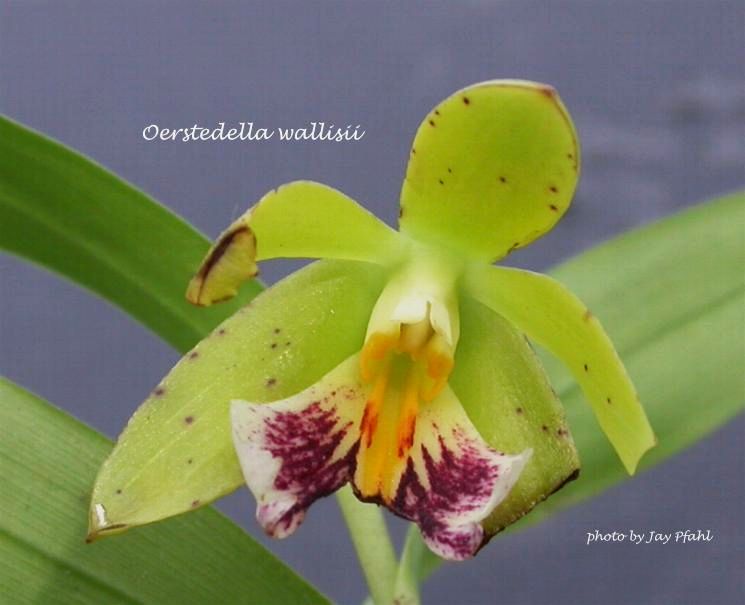 Epidendrum wallisii Rchb. f. 1875 GROUP Oerstedella SUBGROUP Wallisii Photo courtesy of Jay Pfahl
Yellow Color Form Photo courtesy of Dale and Deni Borders
Another Color Form Photo courtesy of Andy's Orchids Copyright © 2002 All rights reserved.
Another Color Variation Photo by © Eric Hunt and His Orchid Website



to


and EARLY

Common Name Wallis' Epidendrum [German Orchid Collector 1800's]
Flower Size 1 1/2" [3.75 cm]
A large sized, terrestrial and epiphytic, warm to cold growing epiphtye or lithophyte that is found in Ecuador, Colombia, Costa Rica and Panama on citrus trees trunks or larger branches in partial shade at altitudes of 500 to 2100 meters in wet montane rain forests with cylindric, cane-like, erect stems enclosed by verrucose leaf sheaths giving rise to distichous, elliptic-lanceolate, acute leaves that are conduplicate at the base and are articulated to the basal leaf sheaths that blooms oEpidendrum waiandtii n a lateral or terminal, arching to pendulous, shorter to 4 to 6" [10 to 15 cm], few flowered inflorescence arising from the leaf axils and has ovate bracts, occuring in the fall and early winter with long-lasting, waxy, fragrant flowers. Altogether a magnificent orchid.
Synonyms Oerstedella wallisii (Rchb. f.) Hágsater 1981
References W3 Tropicos, Kew Monocot list , IPNI ; Lankester's Epidendra Website CR ; Die Orchideen Schlechter 1915; Atlas des Orchidees Cultivees Constantin 1920 drawing fide; Encyclopedia of Cultivated Orchids Hawkes 1965 ; AOS Bulletin Vol 49 No 6 1980 photo; Native Colombian Orchids Vol 3 COS 1991 as Oerstedella wallisii photo fide; Icones Planetarum Tropicarum plate 1568 & 1568a Atwood 1993 as Oerstedella wallisii drawings fide; Icones Planetarum Tropicarum plate 1569 Atwood 1993 as Oerstedella wallisii; Native Rudolf Schlechter Die Orchideen Lieferung 42/3 2001 as Oerstedella wallisii; Ecuadorian Orchids Vol 3 Dodson 2002 photo fide; Icones Orchidacearum 8 Plate 849 Hagsater 2006 see recognition section; Icones Orchidacearum 8 Plate 871 Hagsater 2006 see recognition section; Icones Orchidacearum 8 Plate 871 Hagsater 2006 see recognition section; Icones Orchidacearum 8 Plate 899 Hagsater 2006 drawing fide; Orquideologia Vol 26 No 1 2009 photo; Orchids of Costa Rica Vol 1 Morales 2009 photo fide; Orchids of the Department of Valle De Cauca Colombia Vol 2 Kolanowska, Hagsater etal. 2014 photo drawing/photo fide
--------------------------------------------- -----------------------------------------------------------------------------