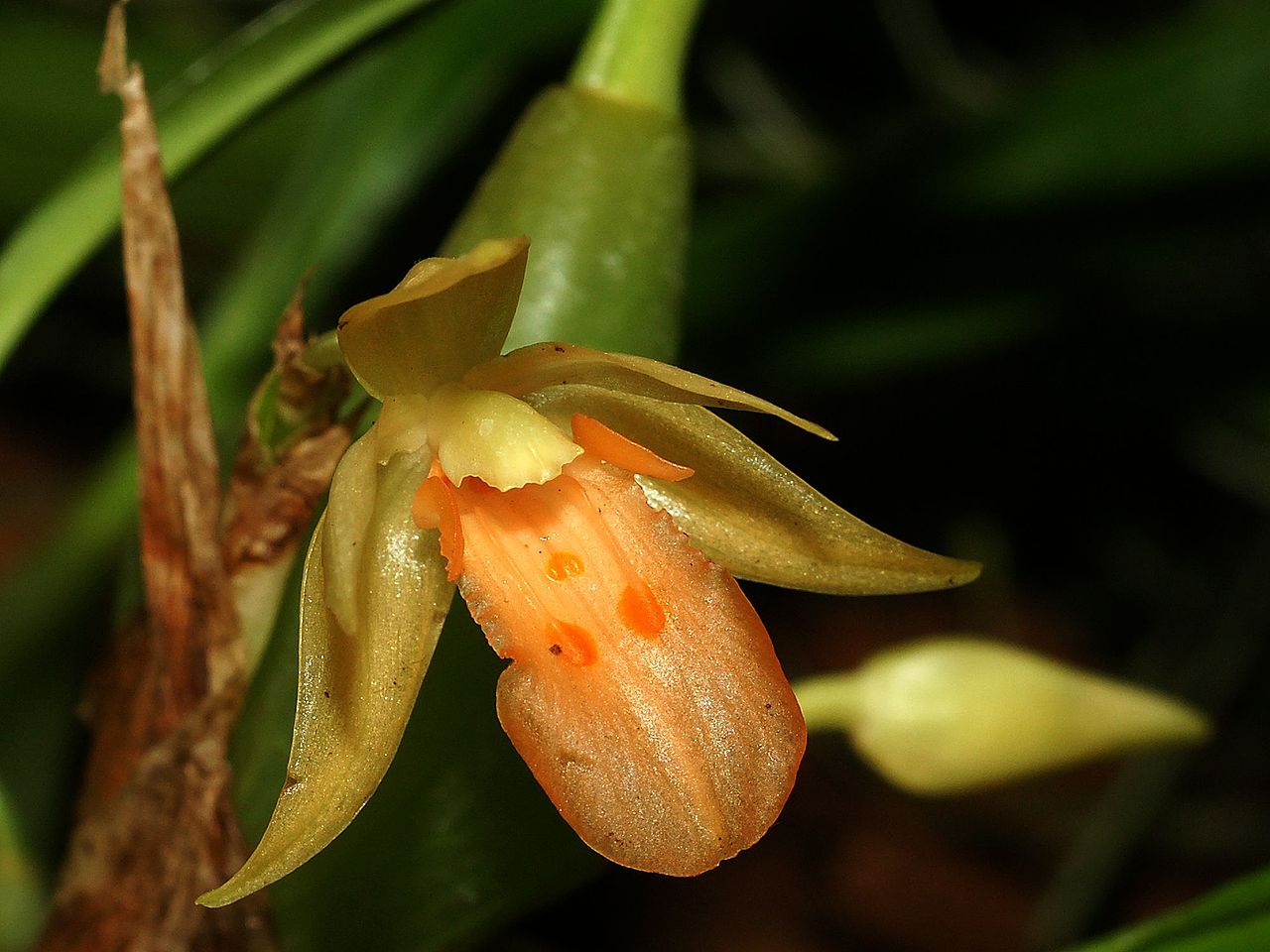 Panisea uniflora Lindl. 1854
Photo by Orchi
Photos by Manorot Tangsaveepha Copyright ©, and the Butterfly and Orchids Photo Gallery
Photo by © Lourens Grobler
Another aspect and Pseudobulbs
Photo by Patricia Harding




Common Name The Single Flowered Panisea - In China Dan Hua Qu Chun Lan
Flower Size 1" [2.5 cm]
Found in the Chinese Himalayas, eastern Himalayas, Nepal, India, Myanmar, Laos Thailand, Malaysia and Vietnam as a miniature to small sized, warm to cold growing epiphyte or lithophyte in humid forest and tropical valleys at elevations of 250 to 2300 meters with narrowly ovoid or ovoid pseudobulbs carrying 2 apical, linear, plicate, acute, grooved petiolate base leaves that blooms in the spring on a basal, erect, 1 to 1 3/8" [3 to 4 cm] long, 1 or rarely 2 flowered inflorescence with ovate or obovate, acuminate floral bracts all arising on a mature pseudobulb.
Warm to cold temperatures, 50% shade, even moisture while growing, less when not and conditions and culture similar to Pleione will ensure a healthy plant.
The defining difference between this species and P tricallosa is the side-lobes to the lip in P uniflora.
Synonyms Chelonistele biflora (C.S.P.Parish ex Rchb.f.) Pfitzer 1907; Coelogyne biflora Parish ex Rchb. f. 1865; Coelogyne falcata Hkr. ?; Coelogyne thuniana Rchb. f. 1855; Coelogyne uniflora Lindl. 1828; Pleione thuniana (Rchb.f.) Kuntze 1891; Pleione uniflora (Lindl.) Kuntze 1891
References W3 Tropicos, Kew Monocot list , IPNI ; Xenia Orchidaceae Rchb.f 1854 as Coelogyne thuniana drawing; Bonplandia Rchb.f 1855 as Coelogyne thuniana; A Century of Indian Orchids Vol 5 Hooker 1895 as Coelogyne uniflora drawing fide; The Orchids of Burma Grant 1895/95 as Coelogyne uniflora; The Orchids of Sikkim-Himalaya Part 1 King & Pantling 1898 as Coelogyne uniflora drawing fide; Die Orchideen Schlechter 1915; The Orchids of Thailand Seidenfaden & Smitinand 1959 drawing/photo fide; The Orchids of Thailand Seidenfaden & Smitinand 1965 corrections; Encyclopedia of Cultivated Orchids Hawkes 1965; Botanisk Tidsskrift Bild 70 Hft 1 Contributions to the flora of Thailand VI Seidenfaden 1975 drawing fide; AOS Bulletin Vol 48 No 7 1979 drawing fide; Indian Orchids, Guide to Identification and Culture vol 2 Pradhan 1979 drawing fide; AOS Bulletin Vol 53 No 12 1984 photo fideback cover; Die Orchideen Band 1B lieferung 16/17/18 945-1128 Brieger, Senghas 1985 photo fide; AOS Bulletin Vol 56 No 1 1987 drawing fide; Orchids of Nilgiris Joseph 1987 as Coelogyne uniflora drawing fide; Orchids Travel By Air A Pictoral Safari Mulder, Mulder-Roelfsema and Schuiteman 1990 photo fide; The Manual Of Cultivated Orchid Species Bechtel, Cribb & Launert 1992 photo fide; Identification of the Orchids [Orchidaceae Juss.] Vietnam Averyanov 1994; The Wild Orchids of China Tsi, Chen & Mori 1997; Native Orchids of China in Colour Singchi, Zhanhuo and Yibo 1999 photo fide; Oasis Vol 1 No 3 2000 photo; Beautiful Orchids of Nepal Rajbhandari & Bhattarai 2001; A field Guide to the Wild Orchids of Thailand Vaddhanaphuti 2001 photo fide; Orchids of Bhutan Pearce & Cribb 2002 photo fide; A field Guide to the Wild Orchids of Thailand Vaddhanaphuti 2005 photo fide; 100 Sikkim Himalayan Orchids Pradhan 2005 photo fide; Orchids of India A Glimpse Misra 2007; A Field Guide to the Orchids of China Singchi, Zhongjian, Yibo, Xiaohua and Zhanhuo 2009 photo fide; Flora of China Vol 25 Zhengyi, Raven & Deyuan 2009; The Wild Orchids in Yunnan Xu Xiang Ye & Liu 2010 photos ok; A to Z of South East Asian Orchid Species Vol 2 O'Byrne 2011 photo fide; Turczaninowia 16(4):26-46 NEW AND RARE ORCHIDS (ORCHIDACEAE) IN THE FLORA OF CAMBODIA AND LAOS Averyanov 2013 ; Orchid Digest Vol 78 #2 2014 photo fide; AOS Bulletin Vol 85 #1 2016 photo ok; Turczaninowia 19 (3): 5–58 L. V. Averyanov, Khang Sinh Nguyen etal 2016 ; Atlas of Native Orchids of China Vol 1 Jin Xiaohua, Li Jianwu and Ye Deping 2019 photo fide;
--------------------------------------------------------------------------------------
--------------------------------------------------------------------------------------