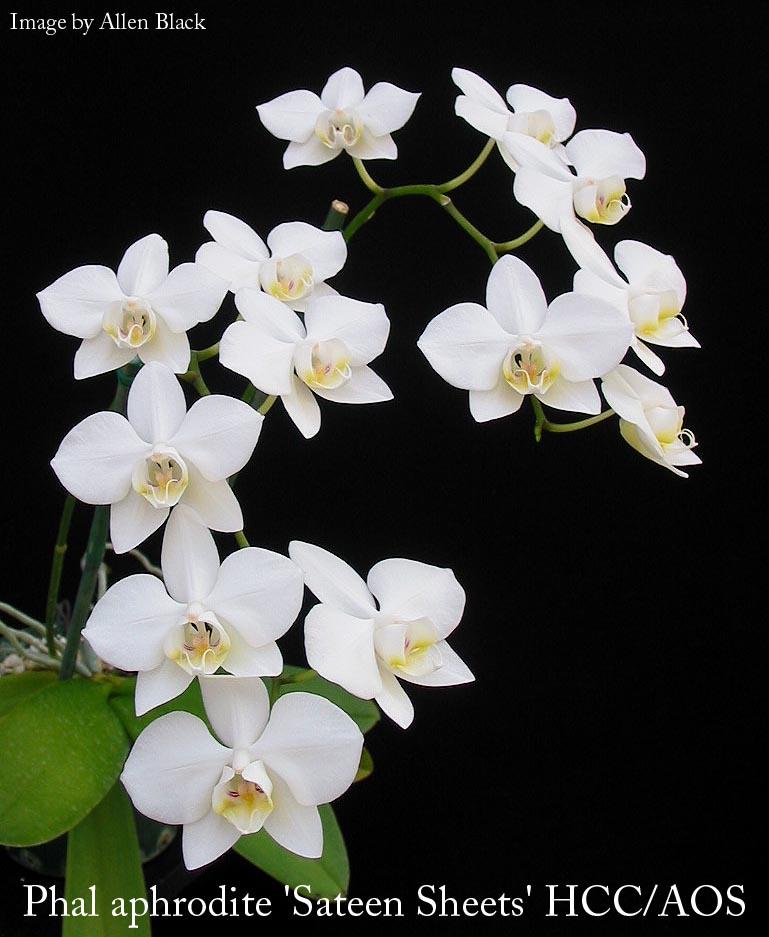 Phalaenopsis aphrodite Rchb.f 1862 SUBGENUS Phalaenopsis SECTION Phalaenopsis Benth 1883
Photo by Allen Black.
Photo by Jay Pfahl


to



to

Common Name Aphrodite's Phalaenopsis [Goddess of Fertility] - In China Hu Die Lan
Flower Size 3" or less [7.5 cm or less]
Occurring from Taiwan to the Philippines in primary and secondary forests at elevations of sea level to 1000 feet. It closely resembles P. amablis but differs in the red lip disc, the triangular mid lobe and it's smaller flowers of about 3" [7.5 cm] instead of the 4" [10 cm] flowers of P. amablis. The flowering season is from October until April on a lateral, 3' [90 cm] long, racemose or paniculate many flowered inflorescence with small bracts and likes it with shady, humid conditions.
Synonyms Phalaenopsis amabilis Lindl. 1838; Phalaenopsis amabilis subvar. dayana (Warner & B.S.Williams) Ames 1908; Phalaenopsis amabilis subvar. erubescens (Burb.) Ames 1908; Phalaenopsis amabilis [L. & Rchb.f] Blume var ambigua [Rchb.f] Burb 1882; Phalaenopsis amabilis [L. & Rchb.f] Blume var aphrodite [Rchb.f] Ames 1908; Phalaenopsis amabilis [L. & Rchb.f] Blume var aphrodite subvar erubescens [Burb] Ames 1908; Phalaenopsis amabilis [L. & Rchb.f] Blume var dayana Hort ex Warn 1881; Phalaenopsis amabilis [L. & Rchb.f] Blume var erubescens [Burb] Burb 1882; Phalaenopsis amabilis [L. & Rchb.f] Blume var formosana Shim 1921; Phalaenopsis amabilis [L. & Rchb.f] Blume var longifolia Don 1845; Phalaenopsis amabilis [L. & Rchb.f] Blume var rotundifolia Don 1845; Phalaenopsis ambigua Rchb.f 1862; Phalaenopsis aphrodite subsp. formosana Christenson 2001; Phalaenopsis aphrodite var dayana Veitch 1891; Phalaenopsis babuyana Miwa 1941; Phalaenopsis erubescens Burb 1876; Phalaenopsis formosana Miwa 1941
References W3 Tropicos, Kew Monocot list , IPNI ; Xenia Orchidaceae Rchb.f 1862 as P ambigua; Xenia Orchidaceae Rchb.f 1862; Studies in the Family Orchidaceae Fascile 2 Ames 1908 as P amabilis var aphrodite; Studies in the Family Orchidaceae Fascile 2 Ames 1908 as P amabilis var aphrodite subvar erubescens; Studies in the Family Orchidaceae Fascile 2 Ames 1908 as P amabilis var aphrodite subvar dayana; Die Orchideen Schlechter 1915; AOS Bulletin Vol 27 No 2 1958 photo fide; Encyclopedia of Cultivated Orchids Hawkes 1965; AOS Bulletin Vol 38 #8 1969 drawingfide; Orchid Digest Vol 38 no 5 1974 photo fide; The Genus Phalaenopsis Sweet 1980 drawing/photo fide; The Complete Writings on Philippine Orchids Vol 2 Quisumbing 1981 photo fide; Orchidiana Philipiniana Vol 1 Valmayor 1984; Orchid Digest Vol 51 No 2 1987 drawing/photo fide; Rudolf Schlechter Die Orchideen Band 1B lieferung 19/20 1129 - 1264 Brieger 1988; Orchid Digest Vol 55 No 3 1991 photo fide; Orchid Species Culture "P" Bakers 1991; Orchid Digest Vol 56 No 1 1992 as P formosanum photo fide; Orchid Digest Vol 56 No 1 1992 photo fide; The Manual Of Cultivated Orchid Species Bechtel, Cribb & Launert 1992 drawing fide; A Checklist of the Orchids of Borneo Cribb & Wood 1994 excluded taxa; Orchid Digest Vol 59 No 1 1995 photo fide; AOS Bulletin Vol 68 No 4 1999 photo fide; Orchids of the Philippines Cootes 2001 photo fide; Phalaenopsis, A Monograph EA Christenson 2001 drawing/photo fide; A to Z of South East Asian Orchid Species Vol 1 O'Byrne 2001 photo fide; Flora Malesiana Orchids of the Philippines Vol I Agoo, Shuiteman and de Vogel 2003; AOS Bulletin Vol 73 No 2 2004 photo fide; AOS Bulletin Vol 77 no 9 2008 photo FIDE; Flora of China Vol 25 Zhengyi, Raven & Deyuan 2009; Flora of China Vol 25 Illusttrations Zhengyi, Raven & Deyuan 2010 drawing fide; AOS Bulletin Vol 80 #7 2011 photo fide;Philippine Native Orchid Species Cootes 2011 photo fide; Orchid Digest Vol 77 #4 2013 photo fide; AOS Bulletin Vol 84 #6 2015 photo fide; Orchid Digest Vol 81 #1 2017 photo fide; Orchid Digest Vol 82 #2 2018 Photo fide; Orchid Digest Vol 83 #4 2019 Photo fide
Phalaenopsis aphrodite subsp. formosana Christenson 2001
Photo By Pieter Brouwer and his P Base Orchid Photo Website
Synonyms Phalaenopsis babuyana Miwa 1941; Phalaenopsis formosana Miwa 1941
References W3 Tropicos, Kew Monocot list , IPNI ; Orchid Digest Vol 62 #3 1998 as P aphrodite var formosana photo fide; *Phalaenopsis, A Monograph EA Christenson 2001 drawing/photo; Orchid Digest Vol 66 #4 2002 photo fide; AOS Bulletin Vol 77 No 9 2008 photo fide; Flora of China Vol 25 Zhengyi, Raven & Deyuan 2009; Orchid Digest Vol 77 #4 2013 photo fide; Orchid Digest Vol 83 #4 2019 Photo fide
--------------------------------------------------------------------------------------------------------------------------