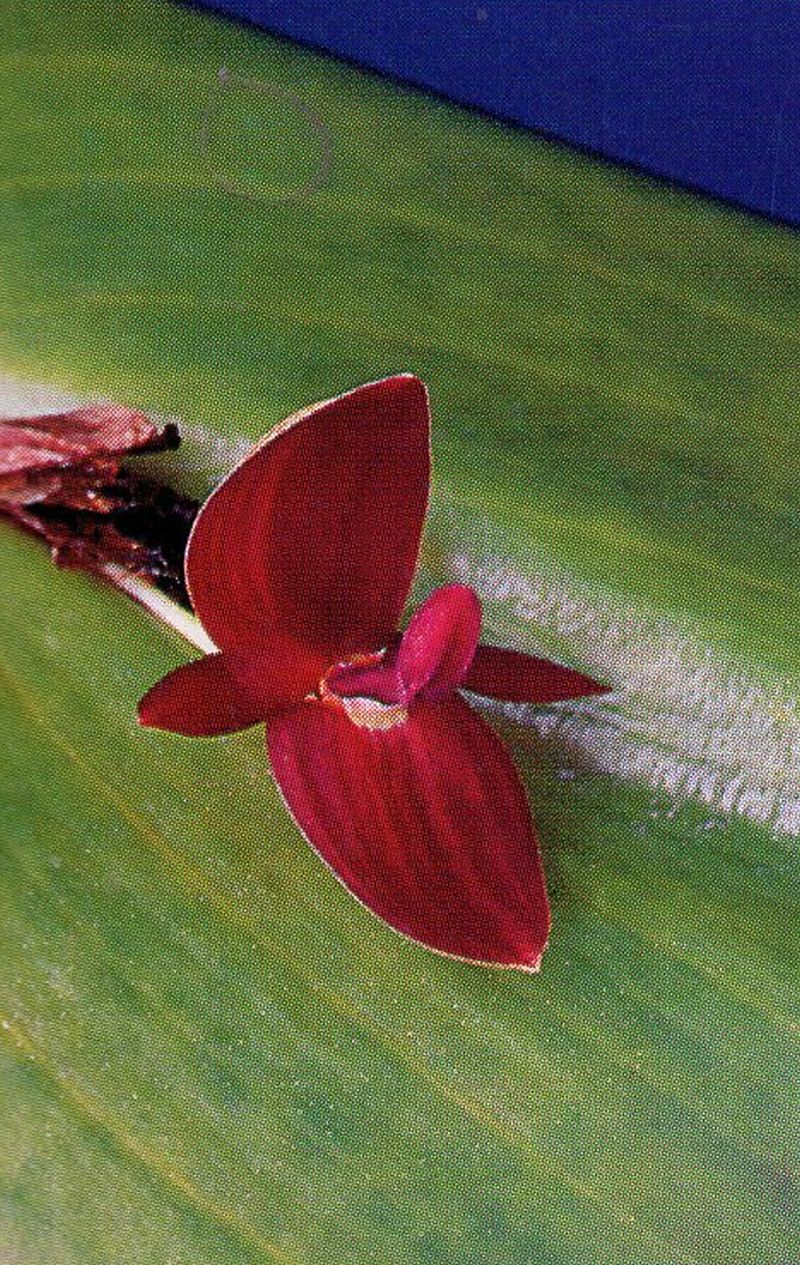 Pleurothallis ascera Luer & R. Escobar 1996 SUBGENUS Pleurothallis SECTION Macrophyllae-Fasciculatae Lindl 1859
Photo by © Rodrigo Escobar
Photos by © S Manning and The Swiss Orchid Foundation at the Jany Renz Herbaria Website
Photos courtesy of Wilfried Löderbusch
Photo courtesy of Orchideen Forum



Common Name The Fur-Lined Shoe Pleurothallis [refers to the pubescent shoe-like lip]
Flower Size 1" [2.5 cm]
Found in Costa Rica, Panama and Colombia at elevations of 1800 meters as a small sized, cool growing epiphyte with stout, erect ramicauls enveloped basally by 2 to 3 close, tubular sheaths and another on the lower third and carrying a single, apical, spreading, coriaceous, ovate, acute, slightly acuminate, basally sessile and deeply cordate leaf that blooms in the winter on a fascile of successive single flowers arising through a spathe and carrying thin, tubular floral bracts.
CAUTION Why the 3rd & 4th photo are correct or not to the species - The lip is good to Luer's drawing, the reclining lip is not correct for the COS photo nor Luer, the inrolled sepals are not and the drooping petals are shorter and straight in the drawing and the photo,
CAUTION Why the 5th photo is correct or not to the species - The lip is ok to Luer's drawing - the petals are more correct but not exact as they are flat in the photo - The dorsal sepal bicoloration is very different instead of red - the flower placement on the leaf is too much off the leaf
Is this species variable within it's range? There is no mention in Luer of this but it appears so as I can find at least three more types on the net, or do I just not have a single correct photo for this species?
Synonyms Acronia ascera (Luer & R. Escobar) Luer 2005; Zosterophyllanthos ascera (Luer & R.Escobar) Szlach. & Kulak 2006
References W3 Tropicos, Kew Monocot list , IPNI ; * Orquidelogía 20: 36 Luer & R. Escobar 1996 drawing fide Native Colombian Orchids Vol 6 COS 1998 photo good to the 1st & 2nd photo; Icones Pleurothallidinarum XXVII Systematics of Dryadella and Acronia Section Macrophyllae-Fasciculatae Luer 2005 as Acronia ascera drawing fide to the 1st & 2nd photos; Orchids of Tropical America Meisel 2014 photo fide;
--------------------------------------------------------------------------------------------------------------------------