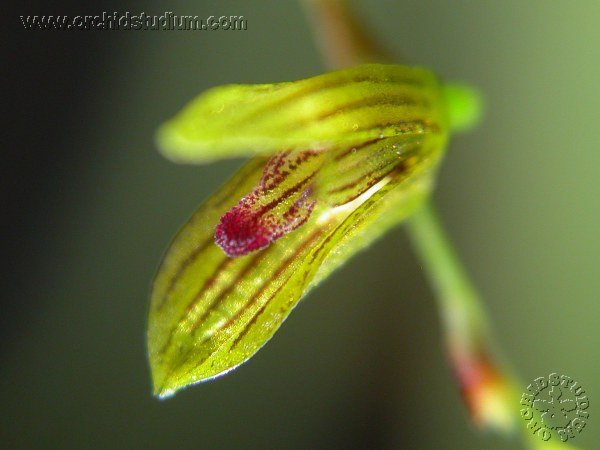 Pleurothallis uniflora Lindl. 1837 SUBGENUS Specklinia SECTION Hymenodanthae SUBSECTION Apodae-Caespitosae [Lindl.]Luer 1986 Photo by © Dalton Holland Baptista and His Orchidstudium
Another Flower, maybe not? Photo courtesy of Oliver Lenhard.







Common Name The Single Flowered Pleurothallis
Flower Size .2" [5 mm]
Found in French Guiana, Surinam, Guyana, Venezuela and northern Brazil at elevations of 100 to 740 meters as a mini-miniature sized, hot to warm growing epiphyte with a short, erect, ramicaul enveloped basally by 2 to 3 close tubular sheaths and carrying a single, apical, elliptic, obtuse, gradually narrowing below into the narrow sulcate base leaf that blooms at most anyt time of the year on a suberect, slender, 1.8" [4.5 cm] long, successively single flowered inflorecence arising from the base of the leaf.
Synonyms Humboldtia leontoglossa (Rchb.f.) Kuntze 1891; Humboldtia uniflora (Lindl.) Kuntze 1891; Lepanthes umbrosa Barb.Rodr. 1881; Pabstiella punctata (Barb.Rodr.) Luer & Toscano 2011; Pabstiella uniflora (Lindl.) Luer 2007; Pleurothallis leontoglossa Rchb.f. 1850; Pleurothallis umbrosa (Barb.Rodr.) Cogn. 1896; Specklinia leontoglossa (Rchb.f.) Luer 2004; Specklinia uniflora (Lindl.) Pridgeon & M.W. Chase 2001
References W3 Tropicos, Kew Monocot list , IPNI ; Orchidaceae Brasilensis Band 1 Pabst & Dungs 1975 drawing ok; Venezuelan Orchids Illustrated Vol 6 Dunsterville & Garay 1976; Orchids of Venezuela, An Illustrated Field Guide Vol 3 Dunsterville & Garay 1979 drawing not = P corniculata; Systematics of Pleurothallis Vol 3 Luer 1986; The Manual Of Cultivated Orchid Species Bechtel, Cribb & Launert 1992; Orchids of the High Mountain Atlantic Rainforest in SE Brazil Warren & Miller 1994 drawing fide to the first photo; Lindleyana Vol 16 No 4 2001 as Specklinia uniflora; Icones Pleurothallidinarum Vol XXVI Luer 2004 as Specklinia leontoglossas; Icones Pleurothallidinarum Vol XXIX Luer 2007 as Pabstiella uniflora; The Organ Mountain Range Its History and Its Orchids Miller, Warren, Miller and Seehawer 2008 drawing fide to Dalton's photo;
--------------------------------------------------------------------------------------------------------------------------