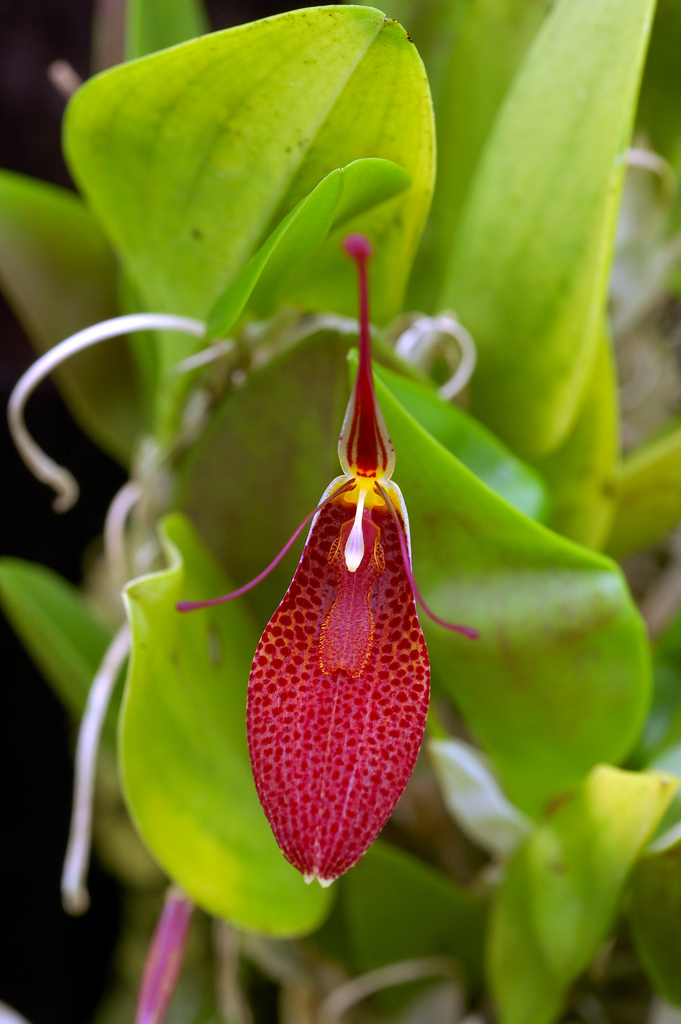 Restrepia contorta (Ruiz & Pav.) Luer 1996 Restrepia SUBGENUS Restrepia SECTION Restrepia Photo by © Eric Hunt and His Orchid Website.
Plant and Flower Photos by © Milan Vágner


to


THROUGH

Common Name The Twisted Restrepia
Flower Size .4" [1 cm]
From Venezuela, Colombia, Peru and Ecuador in cloud forests as a small sized, cool to warm growing epiphyte found at 1300 to 3200 meters with erect ramicauls, enveloped basally by 5 dry, acuminate sheaths, carrying a single, apical, elliptical, apically tridentate leaf that blooms in the spring through fall on a terminal, wiry, 1" [2.5 cm] long, successively single flowered inflorescence that has sheathed floral bracts.
Synonyms *Humboldtia contorta Ruiz & Pavon 1798; Humboltia contorta Ruiz & Pav. 1798; Pleurothallis fimbrilabia C. Schweinf. 1953; Pleurothallis maculata subsp. ecuadoriensis [Schlechter]H. Mohr 1996; Restrepia apiculata Luer 1982; Restrepia caucana Schlechter 1920; Restrepia ecuadorensis Rolfe 1892; Restrepia maculata Lindl. 1846; Restrepia maculata subsp. ecuadoriensis (Rolfe) H.Mohr 1996; Restrepia pardina Lem. 1869; Restrepia punctulata Lindley 1859; Stelis contorta [Ruiz & Pavon]Pers. 1807
References W3 Tropicos, Kew Monocot list , IPNI ; Die Orchideen Schlechter 1915 as R maculata; Die Orchideen der Sudamerikanischen Kordillerenstaaten II Colombia Schlechter 1920 as R caucana; Venezuelan Orchids Vol 4 Dunsterville & Garay 1966 as R guttulata drawing fide; AOS Bulletin Vol 37 # 6 1968 as R maculata photo fide; Flora de Venezuela Foldats Volumen XV Part 2 1970 as R guttulata drawing fide; Orchids of Venezuela a Field Guide Dunsterville & Garay 1979 as R guttulata drawing fide; Schlechteriana Vol 2 No 2 1991 as R maculata; Schlechteriana Vol 2 No 2 1991 as R caucana; Schlechteriana Vol 2 No 2 1991 as R pardina; Schlechteriana Vol 2 No 2 1991 R ecuadoriense; Native Colombian Orchids Vol 4 COS 1992 as R antennifera var maculada photo #548 fide; Native Colombian Orchids Vol 4 COS 1992 as R antennifera var puntillosa photo #549 hmm; The Manual Of Cultivated Orchid Species Bechtel, Cribb & Launert 1992 as R maculata photo fide; Icones Orchidacearum Peruviarum Plate 368 Bennett & Christenson 1995 as Restrepia maculata drawing fide; Icones Pleurothallidinarum Vol XIII Systematics of Restrepia Luer 1996 drawing fide to the first photo/ photo fide; Native Colombian Orchids Vol 6 COS 1998 photo fide; Native Colombian Orchids Vol 6 COS 1998 errata; Oasis Vol 1 No 1 2000 photo; Orchids of Venezuela [An illustrated field guide] Vol. 3 Ramiro and Carnevali 2000 drawing fide; Orchid Australia Vol 12 No 1 2000 photo; Native Ecuadorian Orchids Vol 4 Dodson 2003 photo ok; Orquideas Nativas del Tachira Cesar Fernandez 2003 photo ok AOS Bulletin Vol 74 No 11 2005 drawing fide; Libro Rojo de Plantas De Colombia Vol 6 Primera Parte Saenz 2007; Mille et Une Mini Orchideees Roguenant 2009 photo fide; Orquideologia Vol 28 #1 2011 photo fide; An Illustrated Field Guide to the Orchids of the Yotoco Forest Reserve Colombia Kolanowska, Escobar, Sanchez & Szlachetko 2011 drawing/photo ok; Orchid Digest Vol 79 #3 2015 photo fide;
----------------------------------------------------------------------------------------------------------
---------------------------------------------------------------------------------------------------------------------