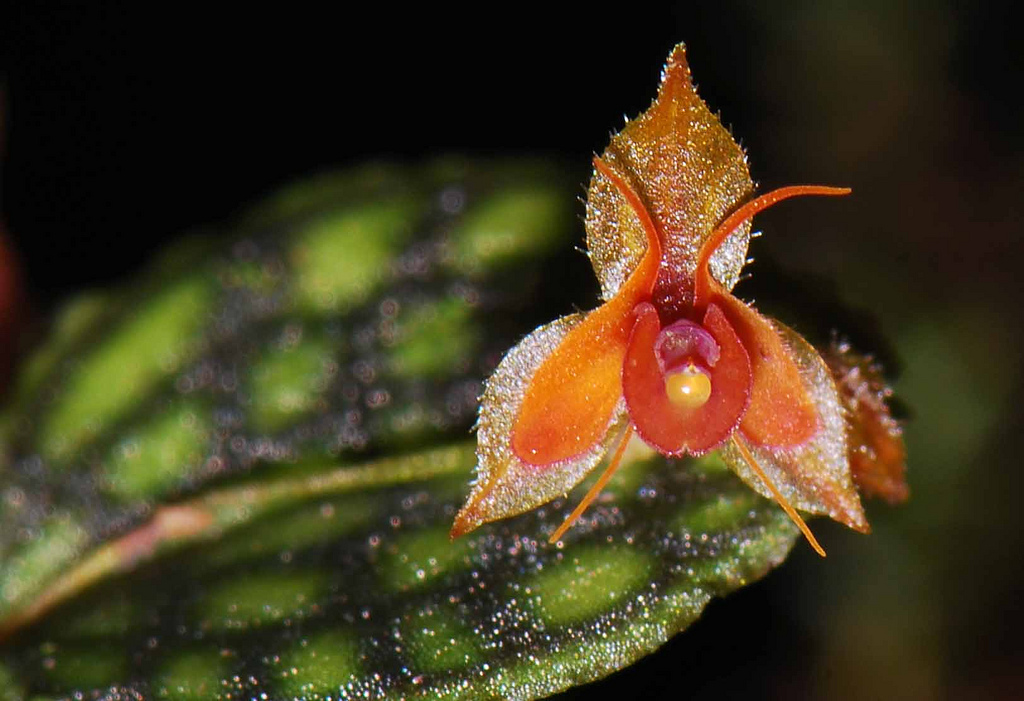 Lepanthes barbelifera Luer & Hirtz 1996 SUBGENUS Lepanthes SECTION Lepanthes SUBSECTION Lepanthes SERIES Lepanthes Novon 1993
Photo by © Fransisco Tobar and Flickr Orchid Photo Website.



Common Name The Barbel-Bearing Lepanthes [refers to the barbels on the lip and petals]
Flower Size 1/4" [6 mm]
A mini-miniature, caespitose, cool growing epiphyte found in cloud forests at elevations of 1500 to 1800 meters in Ecuador and blooms in the spring on a congested, subsecund, successively several-flowered raceme held on or just above the leaf. This species is a relative of L. calodictyon but differs by having smaller leaves with deep green reticulations and non-undulate margins. The petals consist of a single, transversly oblong lobe with filamentous tails occuring from both margins above the base and most of all the subquadrate lip with a slender tail produced from the bases that surround the column.
Similar to the wide-ranging L calodictyon and sufficiently different from the following to be separate species L. bibarbullata Luer, L microcalodictyon L pantominia, L pretiosa, L salatrix L tentacula, L. tortuosa Luer & Hirtz, L volador and the recently described species L. kayii L. Baquero.
References W3 Tropicos, Kew Monocot list , IPNI ; Icones Pleurothallidinarum Vol XIV Systematics of Draconanthes and Lepanthes 1996 drawing fide; Flora of Ecuador No 88 Lepanthes and affiliates Dodson & Luer 2011 drawing fide
--------------------------------------------------------------------------------------------------------------------------