s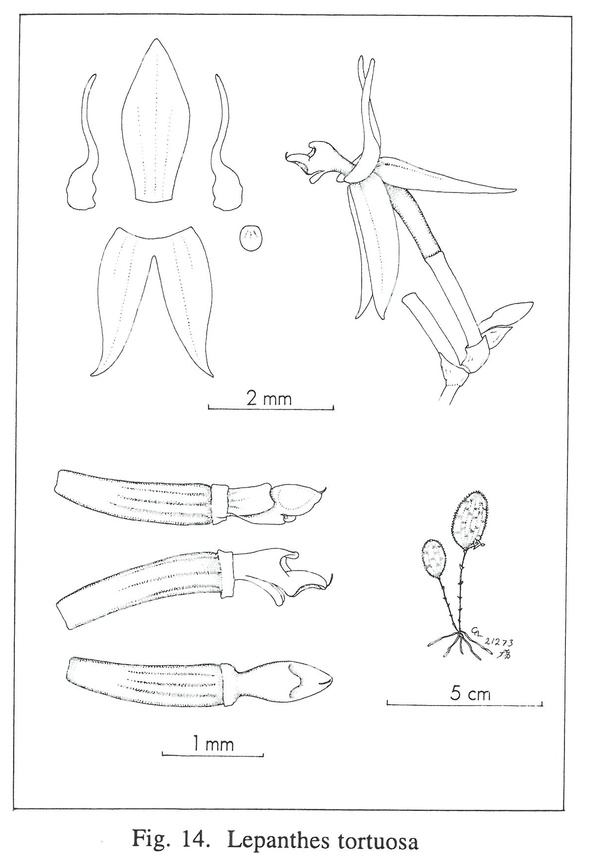 Lepanthes tortuosa Luer & Hirtz 2009 SECTION Lepanthes SUBSECTION Lepanthes SERIES Lepanthes 1993 Drawing by © Carl Luer and The Swiss Orchid Foundation at the Jany Renz Herbaria Website




Common Name The Twisted Lepanthes [refers to the margins of the leaves]
Flower Size .08" [2 mm]
Found in Pichincha Ecuador in cloud forests at elevations around 1200 meters as a mini-miniature sized, warm to cool growing epiphyte with erect, slender ramicauls enveloped completely by 5 to 6, microscopically cilate-pubescent, lepanthiform sheaths and carrying a single, apical, erect, thinly coriaceous, green with brown reticulation, elliptical, rounded apically, markedly sinuate margins, rounded and contracted below into the petiolate base leaf that blooms in the spring on a congested, distichous, .16 " [4 mm] long including the .08 " [2 mm] long peduncle, successively several flowered, inflorescence .
Allied to L calodictyon but easily distinguished by the erect, elliptical, reticulate leaf with a markedly undulate-ruffled or sinuate margin and a short raceme of successive spindly flowers. The dorsal sepal is acutely reflexed with the exposed column pointing forward. The upper petal lobes are contracted into an erect pair id slender, parellel processes. The lower lobe is short and rounded and is without a process. The small lip is discoid and is hedden beneath the column.
Similar to the wideranging L calodictyon and sufficiently different from the following to be separate species L barbelifera, L. bibarbullata Luer, L microcalodictyon, L pantominia, L pretiosa, L salatrix L. tentacula Luer & Hirtz, L volador and the recently described species L. kayii L. Baquero.
Synonyms
References W3 Tropicos, Kew Monocot list , IPNI ; * Icones Pleurothallidinarum Vol XXX Luer 2009 drawing fide;
--------------------------------------------------------------------------------------