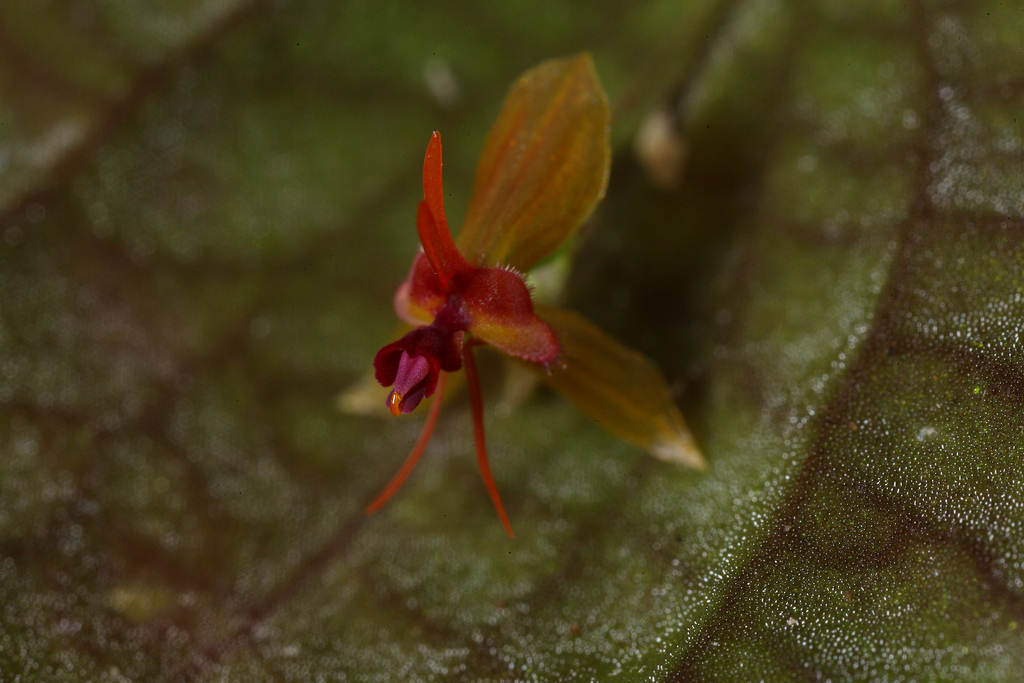 Lepanthes tentaculata Luer & Hirtz 1996 SUBGENUS Lepanthes SECTION Lepanthes SUBSECTION Lepanthes SERIES Lepanthes Luer 1993
Photo by © Jean Marc Pallandre
Photo courtesy of Walter Teague



Common Name The Tentacled Lepanthes
Flower Size 1/10" [3mm]
Found in Ecuador in cloud forests at elevations of 750 meters as a miniature sized, warm growing epiphyte with erect to suberect, slender ramicauls enveloped basally by 7 to 9 shortly pubescent, lepanthiform sheaths and carrying a single, apical, spreading, thinly coriaceous, green with brownish or purplish reticulation, suborbicular, undulate, apically rounded leaf with the base broadly cordate, that blooms in the winter on a congested, distichous, successively several flowered, 1/2" [1.1 cm] long, racemose inflorescence that arises on top of the leaf.
Often found in association with L calodictyon .
Similar to the wideranging L calodictyon and sufficiently different from the following to be separate species L barbelifera, L. bibarbullata Luer, L microcalodictyon, L pantominia, L pretiosa, L salatrix L. tortuosa Luer & Hirtz, L volador and the recently described species L. kayii L. Baquero. It is distinguished by the suborbicular, reticulated leaves the long filiform processes of the petals and the tiny heart shaped lip beneath the middle of the column.
References W3 Tropicos, Kew Monocot list , IPNI ; *Icones Pleurothallidinarum Vol XIV Systematics of Draconanthes and Lepanthes Luer 1996 drawing; Orchid Digest Vol 63 #3 1999 photo fide; Native Ecuadorian Orchids Vol 2 Dodson 2001 drawing ok; Flora of Ecuador No 88 Lepanthes and affiliates Dodson & Luer 2011 drawing fide; AOS Bulletin Vol 81 #12 2012 photo fide; Lankesteriana 18: 183 Baquero & J S Moreno 2018 photo fide
Checked type drawing W3Tropicos seems ok
--------------------------------------------------------------------------------------------------------------------------